(photo by

Kelly Downs Photography)
Native American Heritage Month, National Children's Book Week, AND Veteran's Day all occur right now--and Thanksgiving is coming up. I am happy to know and introduce you to Traci Sorell, an author whose books cover all of those celebrations!
I was so taken with Traci's first published and multi-award-winning picture book, We Are Grateful, illustrated by Frané Lessac, that I blogged about it here when it came out in 2018. It's now available as an audiobook, too. Somehow we began corresponding and hoped to meet someday. It finally happened this year at the Children's Museum in Brookings! We had time for a quick selfie between her sessions of presenting to school kids lucky enough to attend.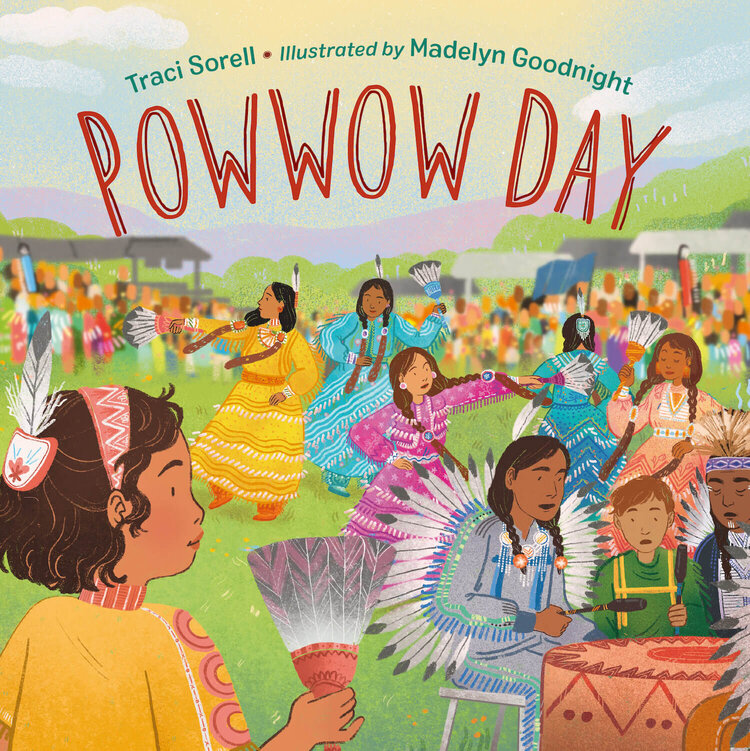 As River and her family travel to the powwow, she is not well enough to dance this year. Seeing her sister and her friend dance while she sits on the sidelines makes River sad. Will she dance again? The book takes readers through the powwow experience from the Grand Entry drums and singing to the prayers to the various dances. Goodheart's soft palette and accurate illustrations bring the scenes to life and give motion to the dancers. Back matter gives more detail about different aspects of powwows, including the fact that everyone is welcome. Sources are included for further learning.
The subtitle of We Are Still Here! explains the book in a nutshell: Native American Truths Everyone Should Know. This non-fiction picture book, illustrated by the same artist as We Are Grateful, has won Honor awards for the Siebert Informational Book Award and the American Indian Youth Literature Award. The audiobook was selected as an ALA Notable Children's Recording.
In this book fictional students present facts to their classmates and families for their Indigenous People's Day Project. While the students and project are fictional, each spread gives brief bulleted facts about a topic concerning Native Americans in the United States, followed by the refrain, "We are still here!" For example, one timely topic is the Indian Child Welfare & Education Act, now before the U.S. Supreme Court. Other topics include relocation, allotment, religious freedom, and language revival. A timeline at the back helps readers understand the sequence of events. Back matter also includes a glossary, sources, and an author's note.
The "More Information" section summarizes each topic and gives context to the illustrations. Illustrator Lessac based her illustrations on actual people, places, and events to help readers visualize the content. She brings the topics together in a joyful final spread that shows the students at their topic tables on Presentation Night. Diverse families mill about, learning what the students have discovered.
This book is easy to read and comprehend about things often not taught or covered by media. This book belongs in every public and school library.
Traci and illustrator Weshoyot Alvitre honor veterans and their families with At the Mountain's Base. This multi-award winning book begins with a Native grandmother in her cabin at the base of a mountain. She weaves, and with her family, she worries, sings, and prays, awaiting her military pilot granddaughter's safe return home. Military families from all cultures will understand the concern, and those of us not from military families will gain new understanding. The poetic text and drawings full of warmth and longing show us the many threads of Native family life and family life in general. A special note about a special Oglala Lakota veteran, Ola Mildred "Millie" Rexroat, the only Native to serve in the Women Airforce Service Pilots (WASP): Her service photo was the reference for Alvitre's drawing of the pilot granddaughter.